Customer Care
My CEIVA frame has a black screen.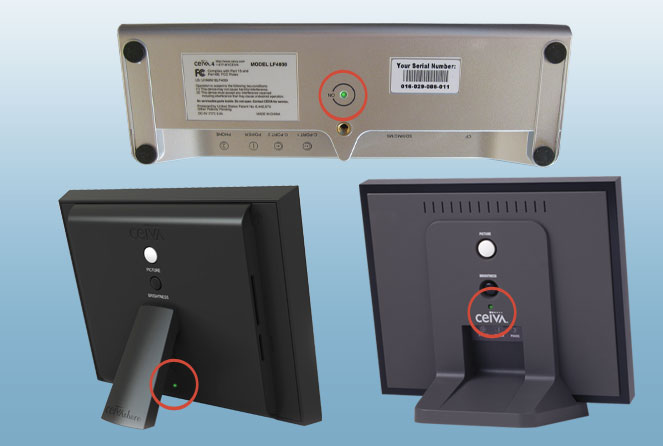 Things to try:
Check your connections. Unplug and replug the power cord securely into the back of your CEIVA frame and check that the power adapter is plugged into a working wall outlet. If you have a CEIVA 1™ model, you may need a CEIVA Connector to regulate the power properly. Look for a solid green LED on the back or bottom of your CEIVA frame to confirm that it is getting power.*
Check your brightness settings. Tap the black Brightness button on the back of your CEIVA frame to adjust the brightness of your screen.
If your frame's screen turns on for a while, but then turns off, check your screen on and off times in the settings of the My Frames page in your ceiva.com account.
If you are still having problems, call our toll-free U.S.-based Customer Care Team at 1-877-MYCEIVA (1-877-692-3482) and we'll be happy to help.
* The CEIVA 1™ model does not have a power LED.
Contact Us
1-877-692-3482
CEIVA Logic Inc.
303 N Glenoaks Blvd STE 200
Burbank, CA 91502
Customer Care Hours
Monday-Friday
9:00 am - 4:00 pm PT